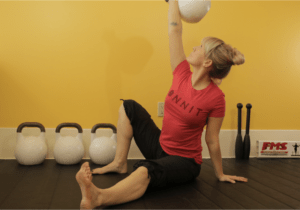 Sarah is the CEO and Movement Coach at Moveolution. She is also a dnaPower partner! Moveolution provides industry leading tools for women's health, prenatal and postnatal education, in movement, durability, corrective exercise and preventative healthcare.
Moveolution aims to create a launching pad for health-seeking women who are dedicated to long-term movement quality throughout pregnancy and beyond. Sarah's in-person coaching, online coaching, programs and products are informed by her clients' DNA. They're also designed with active moms in mind, of any age and fitness level.
Quick Questions
1. What gets you out of bed in the morning?
My 8-week-old baby boy Leo usually gets me up in the morning quite early. Because of him, I see every day as a new opportunity to learn and see the world through a smaller set of eyes. Every day is a new adventure and a welcomed one.
2. What would an ideal world look like to you?
A world where love, equality, and freedom were of the highest values we honored and respected.
3. How has the dnaPower test helped you and your clients?
Understanding our biological blueprint can have a profound impact on our health, fitness, and longevity. That's why dnaPower's tests are so important! They have enabled me and my clients to assess, program, and re-evaluate their health and fitness goals. They also enable myself and my clients to discover our genetic predispositions using epigenetics, allowing us to make smarter decisions in all aspects of their health.
4. Which dnaPower report is your favourite and why?
For me personally, it has been a combination of the methylPower panel and the dietPower panel. These two panels offer you significant information on how your body processes, transports, and regulates foods and supplementation.>
Methylation is involved in every cellular process and is involved in controlling gene expression, which is especially important for preconception and pregnancy. After having 3 miscarriages, I wanted to dig deeper under the hood. So I decided to do a DNA test to better understand my body, considering there are certain genetic markers that play a role in fertility. Then I adjusted my nutrition and preconception supplementation to support a healthy environment for pregnancy. This information is essential for women at any stage or transition in life!
5. Any fun facts or words of wisdom you'd like to share?
The human machine is our greatest tool and our greatest teacher.
6. Where can we find out more about what you do?
Moveolution Website – www.moveolution.com
Instagram @moveolution