October isn't just the month of pumpkin patches and haunted houses – it's also Canada's Healthy Workplace Month. During October, weekly activities are hosted in the office to empower employees to take care of themselves and feel their best.
Need some inspiration to plan your healthy workplace month calendar?
Here Are Four Engaging Health-Promoting Corporate Activities To Organize During Canada's Healthy Workplace Month in 2021
In light of the global pandemic, the below ideas were created with both in-office staff and work-from-home staff in mind – providing opportunities for everyone to be involved.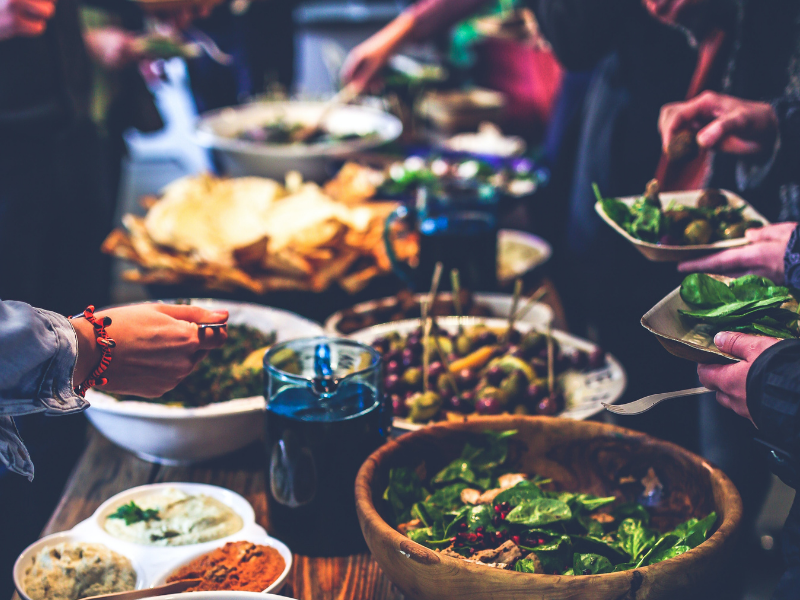 Host A Healthy Cook-Off!
Engage your team with some friendly competition. Split your team into two and ask them to make their favourite healthy recipes for a team potluck and cook-off. Create awards like "Fan Favourites" or "Most Creative Dish" to be voted on by the participants. For employees working from home, they can also participate by sharing pictures of their homemade healthy meals.
Better yet, ask every one in the office to print out a copy of their recipe. Then, compile all the recipes collected in the office, plus the recipes of those who participated from home, into your corporate cookbook to be shared around the office.

The Bingo Challenge
Encourage healthier habits amongst employees by hosting a bingo challenge for the month.
The Bingo Challenge is a fun and engaging activity suitable for companies with employees working in the office and employees working from home.
Create a bingo card with health-related challenges focused on improving mental and physical health.
Here are examples of challenges you can include in your bingo card:
Share a photo of your healthy snack.
Go for a 20-minute walk at lunch with a work buddy.
Share a photo of your healthy meal prep this week.
Join a yoga class or follow a yoga class online at home.
Try to cook a new healthy recipe at home.
Share a photo of what you do during your scheduled break time.
Share a win at work today. Better yet, tag a co-worker (or two) who is part of that win!
Participants will need to complete each task by tagging the company's social media page with a video or photo of themselves completing each challenge. Then, every time a challenge is complete, they can cross it off their bingo card.
Awards will be given out to those who cross off the entire bingo card by the end of the month.

Ergonomic Assessment
Remind your staff in the office and those working from home about the importance of working in an ergonomic space to prevent chronic pain and injuries.
Hire an Ergonomics Professional to evaluate current workspaces in the office and at home, providing suggestions on improvements to be made.
Host an online workshop with the Ergonomics Professional for all employees to attend. Topics in this workshop should include:
Good posture practices.
Ergonomic sitting and standing positions.
How to choose an appropriate chair and desk.
Keyboard and mice position.
Scheduling regular breaks and stretches.

Putting Mental Health First
Host an online workshop to provide resources to colleagues and managers to help them recognize the signs and symptoms of mental health issues in the workplace.
Workshop topics should include:
Identifying symptoms of mental health difficulties, including substance abuse.
Strategies in how to accommodate employees in distress or recovering from a crisis.
Provide a safe place for employees to report symptoms of mental health problems, preventing them from developing into a more serious state.
Additional mental health resources:
Mental Health First Aid Course – Offering courses to educate, raise awareness, and equip a person with the confidence to manage mental health problems.
Workplace Strategies for Mental Health – Policies, programs and prevention strategies to support workplace mental health and psychological safety for everyone in an organization.
Help Your Employees Take Advantage Of Their Health Spending Account With Personalized Health Care Services
Most plans for Health Spending Accounts (HSA) and Flex Spending Accounts (FSA) reset before the end of the year. Remind your staff to use up the remaining of their funds before the year-end.
Personalized health care is becoming the forefront of health and wellness. For example, genetic data from a DNA test is relevant for a lifetime, providing accurate, precise, and personalized data. Empower your staff with the power of personalized data on nutrition, fitness, and lifestyle habits for a healthy and vibrant life.
Did you know that some HSA and FSA plans may cover reimbursements for DNA testing recommended by a Registered Dietitian?
Contact us and we can refer you to a BC Registered Dietitian that can provide a requisition for your DNA tests to be reimbursed under your HSA or FSA account.
Get personalized health data so you can have the precision and confidence to be your best self! Learn more about our DNA kits for nutrition, diet, and wellness here.
Get more information on how you can optimize your health with our totalPower DNA kit for nutrition, diet and wellness.
At dnaPower, we harness the value of work-life balance immensely. Therefore, we aim to empower you with these simple yet engaging corporate activities to ignite your employees' enthusiasm for health and wellness just as we do.