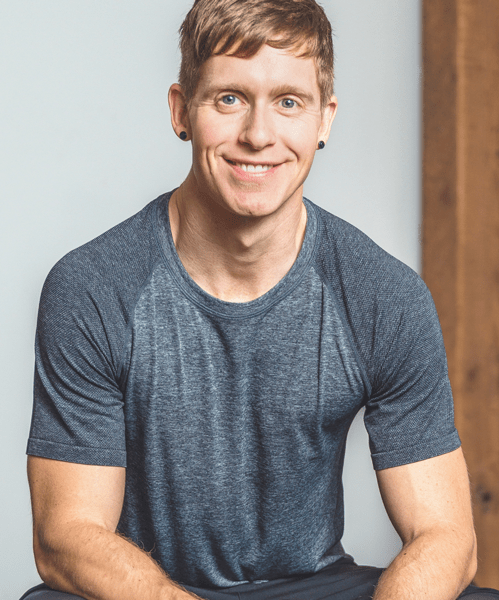 Dave is a Personal Trainer and Life Coach at 
Make Your Body Work Fitness,
 as well as a dnaPower partner! His mission is to help others overcome this unhealthy fixation while still being able to improve their fitness and reach their weight-loss goals. Since 2001, Dave has met with thousands of people who want to transform their bodies but haven't been able to successfully lose weight.
Dave says it's his calling to help people not only lose weight, but to help them realize their immense value beyond what the number on the scale shows. That's why he was chosen as Canada's Top Fitness Professional – he believes fitness is about so much more than exercise and healthy eating. Rather, Dave says it's about being able to love yourself more, love others better, and love the life you are living.
1. What gets you out of bed in the morning?
I have a morning ritual that makes the start of each day a good one. I read, pray, exercise, drink a smoothie, and then get down to work. I find that this routine sets my mind on what I want my day to really be able instead of letting things just happen and dictate the intention of my day for me.
2. What would an ideal world look like to you?
Oh wow, this is difficult to answer. I think it would be a world where everyone lived by the golden rule: Do unto others as you would have them do onto you. It's tough to always do this because our own life, our own struggles, our own desires are so easily accessible to us, whereas we only see a snippet of what's really happening with those people around us. So, an ideal world would start with us all taking a little more time to ask questions and really get to know one another better.
3. How has the dnaPower test helped you and your clients?
It's given my clients confidence that they CAN change. Many of the women I work with have been through dozens of diets and workout programs, so often they feel a bit hopeless. Will anything "work" for them? But, when they know that they're getting a plan that's tailored to their own body, it's easier for them to buy in and commit to following it. And, we all know that adherence and consistency is what leads to results, so this confidence boost really helps.
4. Which dnaPower test is your favourite and why?
I find the dietPower test super-useful because it presents so many actionable steps. It outlines what needs to be done, then I help my clients implement those changes step-by-step so that it's not overwhelming.
5. Any fun facts or words of wisdom you'd like to share?
I was doing a presentation recently about the importance of community. As humans, we are just built to do life with others, and that includes staying healthy. A research study I cited found that people get 217% better results from their exercise when they do it with others. So, my words of wisdom: If you don't already have one, go get a fitness buddy!
6. Where can we find out more about what you do?
You can find my blog, podcast, workouts and resources at Make Your Body Work. I work exclusively with women who are looking to lose weight, so if any ladies have questions about their own health journey, just ask and I'd be happy to help!